Connect with resellers, find suppliers and trade together.
Trade with other businesses, discover new products to sell and grow your business
Pricing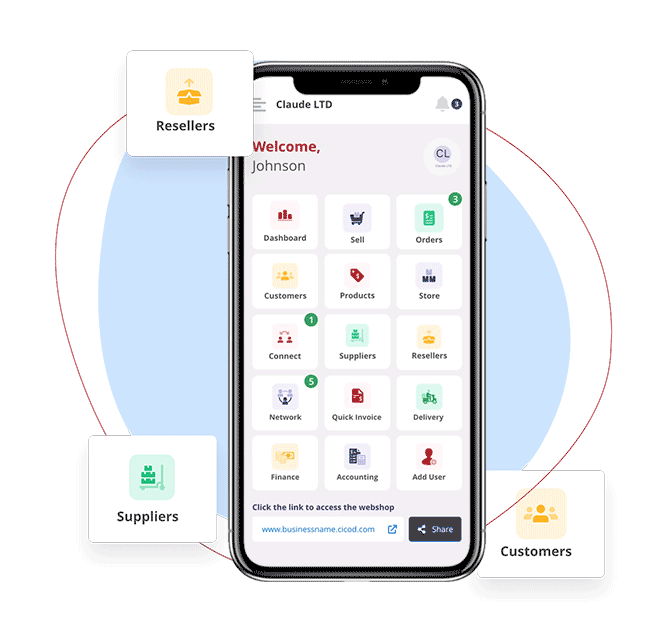 Trade without limits with CICOD Merchant
Grow your business quickly
Get access to more inventory than ever before, connect with new customers and suppliers that you can trade with.
Trade on the go
Never again do you need to be in a specific location to trade. The CICOD Merchant App connects you to the world of commerce, enabling you to trade anytime, anywhere!
No stock. No Shop. No problem
Build your webshop in an instant. With zero coding required and just a few clicks you are ready to connect, buy and sell any product.
Discover new products to sell
Sometimes you may not have products to sell or are concerned about holding too much stock that will never be sold. With the CICOD Merchant app, you get the flexibility of accessing any product from any supplier and only dispatch orders when they're received.
Access new deals daily
Great for finding suppliers and passing on their offers! The app will send you a notification when new suppliers join, so that way there's no chance of missing out on deals. You can maximize profit by being the first in line for these amazing opportunities as soon as they come in.
Inventory finance at your fingertips
The inventory finance feature allows you to purchase goods at those moments when cash is running a bit low and your company needs more capital. This can be done quickly, without drawing on any other sources of funding or incurring additional costs for financing with outside parties which means that there will be no delays in getting what's needed as soon as possible!
Seamless delivery options
Delight your customers with seamless and uncomplicated delivery service by setting app delivery boundaries and charges via the app or collaborating with a third party logistic partner.
Send invoice quickly
Send quick invoices for any product or service which may not be in your webshop or published to the product catalogue.
Start trading with ease and build a network of connections today
30 days free trial